Sample file: -
Download
Many courier company offer tracking file download option on their website. If you not sure, contact the courier company and ask them where you can download the tracking CSV or Excel file for orders.
CSV (Comma separated values) is a type of Excel file. Spreadsheets software like Excel will offer you the opportunity to save files with the CSV extension. Open excel file and type order number in first column and tracking number in second column. As shown in below image.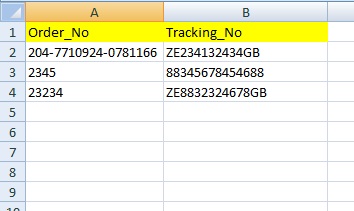 ---
Save File
Then select
CSV (Comma delimited)(*.csv)
from the drop-down list, and give it a name.
---
Upload tracking on OMS. Login to your OMS account and go to
Order Dispatch page
. Click on
Bulk Tracking Upload
button
---
Once you clicked on
Bulk Tracking Upload
button; pop-up window will open then select tracking CSV file and upload -
---
If you want to
Remove
tracking details from orders - (This only update on this website on Undisptached / Unshipped Orders)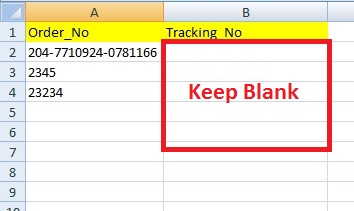 ---
Tracking details file from RoyalMail Click & Drop & CityParcel for Order Manager system